Cottonwood Elementary School Reward Assembly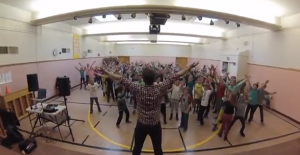 DJ Rob created energy and excitement at the Cottonwood Elementary School Reward Assembly.  Cottonwood Elementary school loves their students – and so do we!
You may be wondering, "What is a reward assembly?" Many amazing educators like to give their students goals to work towards, then reward them when they accomplish those goals. For example, Cottonwood's Students accomplished the goals their principal for behavior, attendance, and lunchroom behavior. This is one great idea for an assembly.
That's where DJ Rob comes in. We did three thirty-minute dance parties divided by grade levels (K-2, 3-4, 5-6). Kids grow up too fast and we all know there is a huge difference in the music preferences of a kindergartener vs. a 6th grader. Through dividing the age levels, we are are able to cater the music and interactive dances to give the best party to each group.
The amazing aspect of being a part of the reward for the children is the reward we get in return. We become a part of their lives and observe so many small acts of kindness that are often overlooked in the face of constantly being on the lookout for bullies. We were able to capture one such act in the video below. One little girl did not include herself in the Harlem Shake as the beat dropped and all of her friends rushed the dance floor. One of those friends noticed and ran back to grab her to make sure she was included in all of the fun, then another girl, and another, until several of her friends surrounded her and she joined in the party.For those few moments, it was refreshing to focus not on the bullies, but on the student heroes who make sure everyone feels welcome, appreciated, and included. I love being a part of this! DJ Rob dance parties and reward assemblies give the students a chance to let loose and feel included in any dance we create together.
You can view a full version of what our reward assembly dance parties include here.  Thank you Cottonwood Elementary School Reward Assembly for including DJ Rob!
Click for LOTP Facebook Video