DJ Rob Partners with Rocky Mountain Power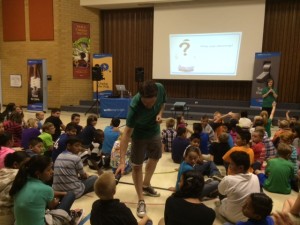 I worked with Radio Disney in their Salt Lake market until Disney decided to end the days of Radio Disney.  We had the opportunity to do multiple assemblies with RMP (Rocky Mountain Power).  I saw tremendous value in helping to teach our youth how to take care of the world they live in, so I approached RMP about continuing this work under the umbrella of Life of the Party and DJ Rob.
Assemblies begin with one of our favorite attention-grabbers – 6 dance moves in 60 seconds.  We then transition into educating the students about where energy comes from and tips to save energy in their homes. We invite the official RMP mascot, "Slim the Lineman," to help with our message. Later on in the assembly, we quiz students on what we have learned and reward them all with Watt Smart wrist bands.
We are looking to visit more schools, so let us know if you want DJ Rob and RMP to visit your school!